Shehata John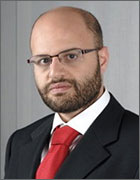 Of Counsel at Bonelli Erede Pappalardo.
Coordinator of the Africa, Middle East and the Gulf Business Focus for the Executive Master for International Business organized by the New International Business Institute (Nuovo Istituto di Business Internazionale - NIBI) endorsed by Promos – Milan Chamber of Commerce.
Lecturer for the Middle Eastern Studies Masters course organized by the Graduate School of Economics and International Relations.
Member of the Egyptian Private Equity Association and of the Ethics and Disciplinary Committee (Collegio dei Probiviri) of the Italian Association of Foreign Trade (Associazione Italiana Commercio Estero).
Contacts
personal page: https://www.linkedin.com/in/jshehata