"Taba masa'oukom honorable Professors, Drs, Parents, and Colleagues.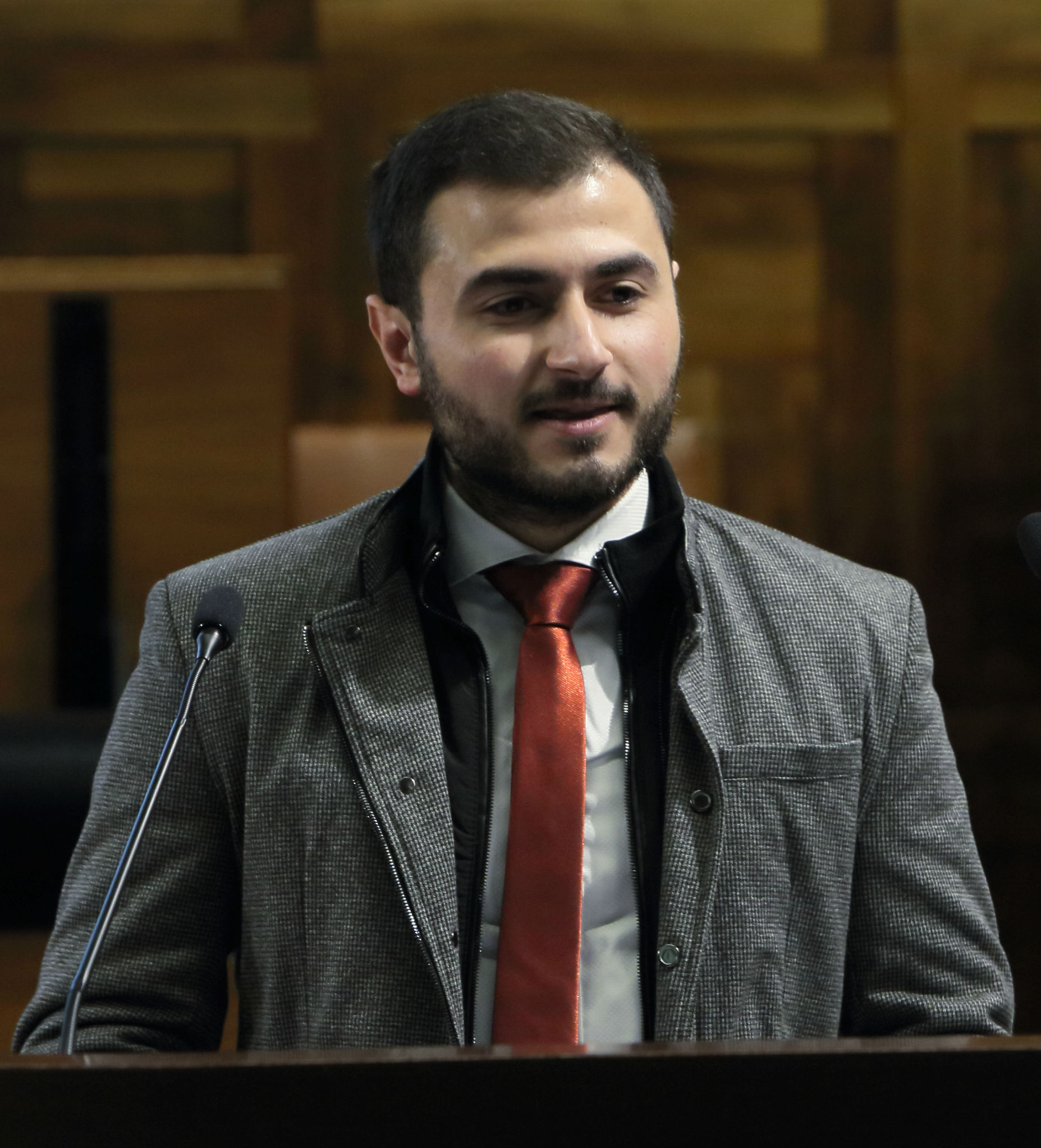 In the same way that taking a step back can help you better observe an issue, I had to get out of the Middle-East in order to properly understand the Middle-East.
This Masters was an enlighting experience on so many levels.
It taught me to appreciate the culture, history, and particularity of the region I was born in. Without exaggeration, and my beloved parents who came all the way from Lebanon would confirm this, the first piece of advice given by Lebanese parents to their children is: There's no future here, Ma fi shi hone, go live in the developed countries. These words haunted me for years, how can I live as a respected human being in a country that is gradually losing its sense of humanity?
However, and to my ultimate surprise, most of my colleagues in the Masters Program had seen more of the Middle-East than I have, were more interested in discovering its culture, its people, its traditions, and starting a career in this perplex region of the world. Actually, how many of you did their internship in a Middle-Eastern country? That blew my mind! This powerful curiosity for inter-cultural discovery, made possible by this valuable opportunity.
Here lies the richness of this Masters. It brought together individuals from various backgrounds and environments. It forged life long bridges, connections, and relations. By the end of this Masters, the supposed differences or preconceived ideas that might have been constructed at the beginning of the journey, were completely irrelevant. There was nothing differentiating us. We were all students sharing the same path. We went out together. We laughed together. We joked around together. We studied and debated together. Bottom line, we formed one class, one organism, and one pluralistic mind committed to expanding its knowledge on the Middle-East, dedicated to fighting stereotypes and resolving conflicts.
Regarding the Masters' structure, the multitude variety of courses, modules, and topics allowed for a global approach of the region. What we considered as mainly a conservative area prone to conflicts as for radicalism, once dissected and assessed objectively, appeared as a region victim of internal cleavages as for conflicting external interests.
Also Characterizig this Masters was its renowned, professional, as well as nationally diversified professors. We had the privilege of assisting lectures and classes given by some of the most brilliant minds I've ever encountered. Their mastering of the region's aspects, their modesty and passion, the side talks and discusssions, will forever constitute something to cherich. I would love nothing more than to cite each and every professor who influenced our learning experience, but I don't want to keep you here till morning so, allow me to express my most sincere gratitude and appreciation to the Program's director, Professor Riccardo Redaelli. Shoukran laka. The Program's Assistant, Dr Anna Lisa Pinchetti. Shoukran laki. In addition to my tutor for the Project Work, Prof. Martino Diez who could not be with us tonight. Kol al shoker lahou.
My friends, so not to succumb to my Arabic tendencies of talking too much, it has been an absolute honor spending those 6 months with you. We definitely formed the most random class ever. So a French, an American, a Serbian, a Columbian, a Polish, a Pakistani, a German, 7 Italians, and 2 Lebanese, walk into a bar … this is literally how we met, and here we stand tonight, celebrating this enriching accomplishment, eager to return to that bar once it's all done.
Hazihi laysat al nihaya bal moujarad al bidaya. This is just the beginning. I wish you all the best, certain that our roads will cross again.
Thank you very much."
Marc Antoine Rouhana, MIMES former student