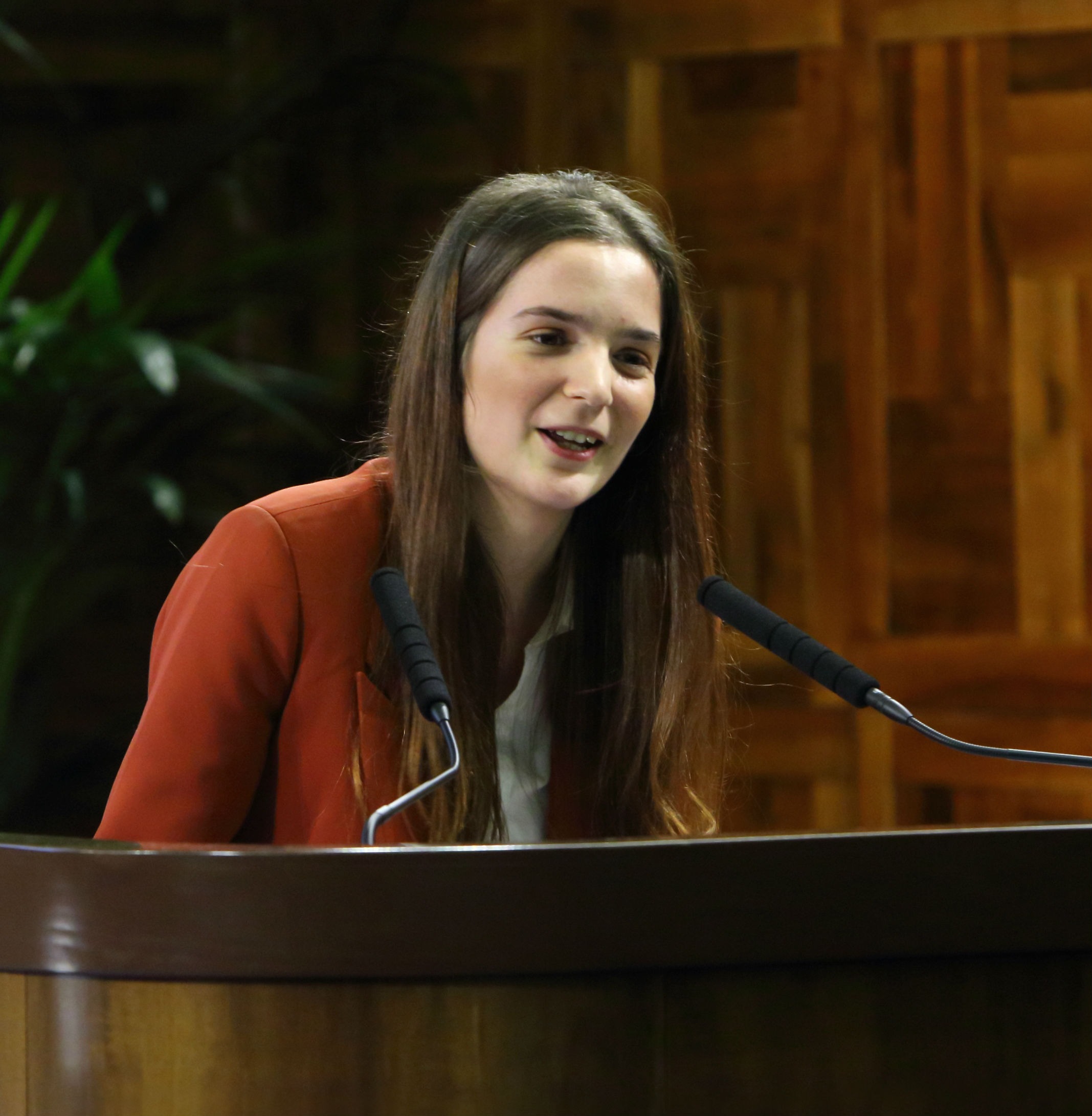 Good evening everyone: students, teachers, family, and friends. Thank you for gathering tonight.
I am very honored to speak on behalf of all my classmates.
Since I was a kid, I have always been keen on learning and discovering when and why things happened. And so, tonight I would like to share with you 5 key moments of this program.

January 14th. Almost Eleven months ago.
Everything started. We all met for the first time, together with Professor Beretta and Cristina Rago, our program assistant. All very curious and looking forward to starting this new experience. 24 students from 16 countries, and 6 different continents. Completely different backgrounds. Law, Languages, Economics, Medicine. But we all had something in common: the will to learn and to change the status quo.
A few hours later, in the afternoon, we attended our first class with Professor Beretta: Global Integration Trade and Development. I know it sounds difficult. Well, it was. But at that precise moment, we realized that this master was going to be challenging but also that it was going to teach us so much in different ways.

January 31st
Public speaking class. That was the very first presentation we all had to prepare. It was the first time I felt so much pressure in the classroom. To be honest, even after so many presentations, I still feel the same stress, speaking tonight. But stress is a component every development officer must deal with.

February 18th
First exam: Development Economics.
I believe that right after that exam, some of us considered leaving Milan because they would never get that diploma. But the most important thing to share about it is that we all came on time for the first time.

June 10th
This date was important not only for our class but for all students here tonight.
Fadi my friend from Palestine organized the very first intercultural dinner here at ASERI.
We all prepared food and shared some facts about our countries. I believe that there is nothing more than food that could better represent international cooperation. Especially in Italy.

December 13th: Tonight.
Those eleven months have been difficult. But I think, it needed to be hard.
Some of us will perform under the most stressful circumstances in the real world. This was just the start.
I believe we all grew up so much. Both professionally and personally.
And it is the merit of several persons that I would like to thank now.
Thank you to all our teachers. You provided us with a complete approach of what international cooperation and development are. You fostered our interest and always challenged us to question what we had learned and experienced in the past. A special thanks to professor Beretta, our Program Director for all your support and help. I will always remember that you helped us prepare for exams that were not even yours. Thanks for that. My gratitude to Cristina Rago, for your patience and for having always replied to all our doubts and emails during the last year.
Last, but not least, I would like to thank my classmates. All of you, in your particular way, taught me something. For that reason, I wish you all the best. Some of us will keep studying, some already found a job, others are still looking. Probably some of us will need time to find their own path. But as one of my favorite moviemakers, Xavier Dolan, said, « I think anything is possible to anyone who dreams, dares, works hard and never gives up."
Thank you.
Ad maiora
Maureen Blache, MICAD former student (a.a. 2018/19)