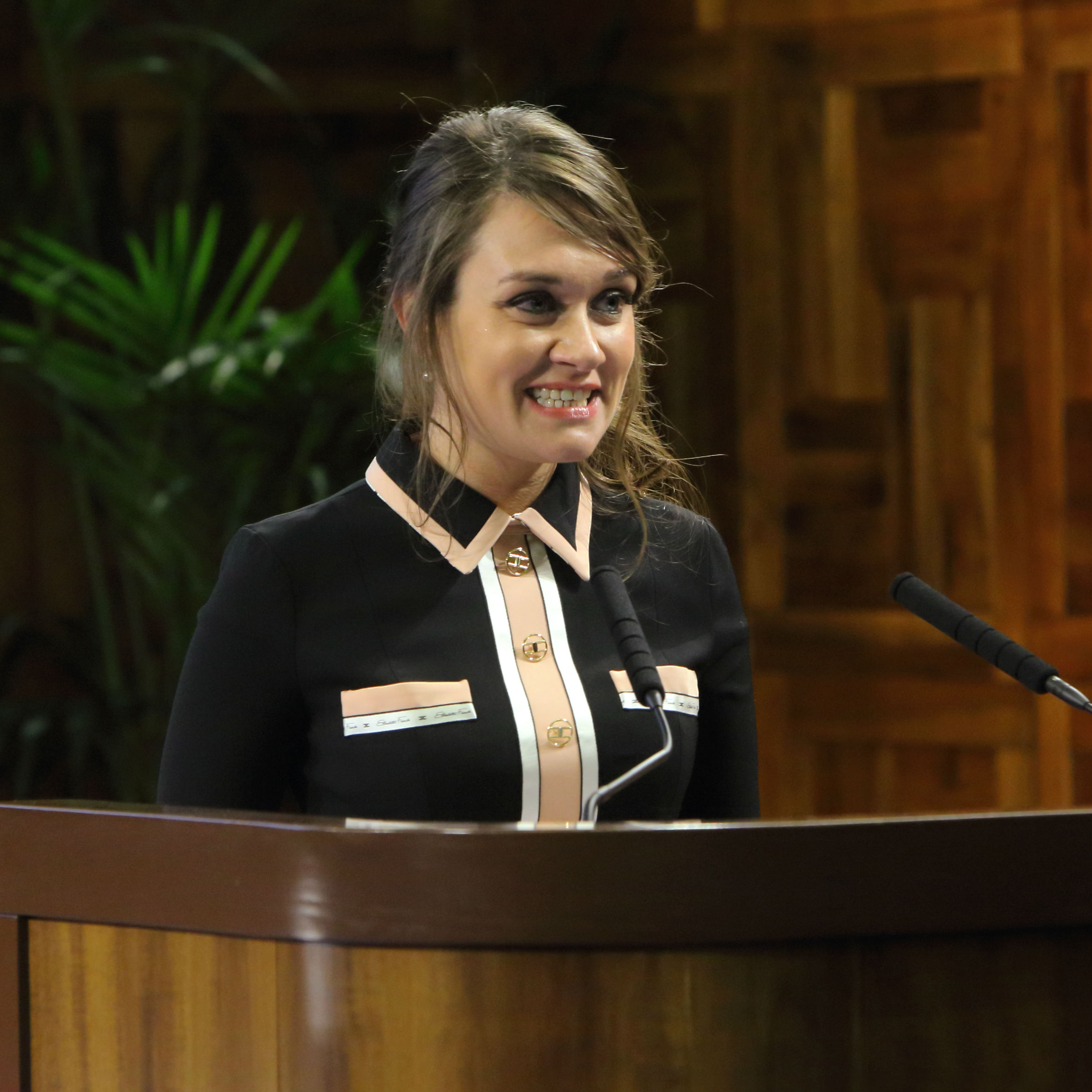 Master Directors, Professors, members of the faculty, proud relatives and friends but particularly fellow colleagues. It is for me a great honor and privilege to address you today, on this special occasion, our long-awaited graduation ceremony. Before I begin my speech, I would like to thank the ASERI Director, Professor Vittorio Emanuele Parsi; the director of the Master in International Relations, Professor Damiano Palano; I would also like to thank our program assistant, Melody Barbato for her constant support and for having been an essential point of reference over this year; Federica Basilio of the Secretary's Office for her bright and warm smile even on the worst foggy days in Milan.

I have spent the last few days trying to conceive a reasonable speech; and I have to admit that it has been the toughest challenge this master has posed to me. In comparison, Professor Balestri's exam has been as easy as drinking a glass of water.

All kidding aside, the first thing that has come to my mind, while thinking about the most appropriate words for us today, is a Latin sentence: Per Aspera ad Astra, it means through adversities to the stars.

It has been a very intense year at ASERI, we have acquired so many knowledge and notions. Do the prisoner dilemma, the MFN exemption list or the trade war tell you something? Six endless months of lessons, 38 courses, 4 academic areas, five regional trainings, ten essays and who knows how many written exams. Yes, a real challenging and tough year, culminated with a unique experience and when I say "unique" I think I can speak for every one of you. Someone in Africa, at the forefront in facing emergency situations, others at the Italian Chambers of Commerce abroad, dealing with the above-mentioned concepts, others in Brussels with the luck of taking part in the EU Parliament sessions; the list goes on and on. But I want to ask you a question, the same I ask myself… How many times, over this year, have you fallen, how many obstacles have you encountered and how many times you were on the verge of giving up? I can only imagine each one of you taking pivotal decisions, in all likelihood, the first career decisions of your life trying to figure out which was the best thing to do. If you are here today, in this wonderful auditorium of our renown University, you have had the courage, the strength, and of course a touch of madness to always go beyond, to find a solution without remaining stuck before apparently insurmountable obstacles and unsolvable situations.
You have been brave enough to look at the glass as always half full. However, as my mum, Mamma Mari has always taught me "nothing comes out of nowhere". And we all have experienced this throughout the master: resilience is fundamental, and so are engagement, hard-work, commitment, and the belief that the best decision you can take is the one that can improve the lives of others. We all have to take this into account when at the highest levels, having the responsibility to face international issues involving the lives of millions of people. I know that every one of you will do great things: we had the occasion to learn from the best, from top-level professionals and distinguished Professors in the field of International Relations. I wish you as I wish to myself not to fear failure or to go through dark times, in Soraya's words "even though you don't know how far the tunnel extends, and how much time it will take to come out, there is always a light at the end of it". I wish you to go through adversities and reach the stars, simply because you deserve it.

Today, I want to share with you two stories, both short I promise. The first one, rather than a story is a life lesson that my high school principal taught me, something that I repeat to myself when I have to go through a difficult time: "be like a coffee bean". When we have to face hardships, we have basically three options: be a banana, be an egg or behave like a coffee bean.
Every one of us has sooner or later experienced how boiling water burns and, right at this point, our freedom of choice begins. When there are obstacles on our path:
1) We can decide to be a banana which, once in contact with boiling water, splits; in the same way, we can lose our energy, love, and enthusiasm for life, for our dreams, giving up and stopping trying.
2) We can choose to be an egg; once in a small pot filled with boiling water, it hardens. Similarly, we can defend ourselves against troubles and uncertainties opting for wearing heavy armor, in the vain attempt to protect ourselves from new "burns". However, this will lead us to a single and paradoxical outcome: behaving like an egg makes us rigid, inflexible, intransigent, preventing ourselves from being flexible enough to find a way out, to see the stars (astra).
3) We can choose to be a coffee bean. Once in contact with boiling water, a coffee bean not only remains intact, but it also unleashes its unique aroma. Even though burnt by life, we can decide to maintain our integrity and release unimaginable resources, up to the point of doing our best, primarily benefitting others, those in need of our support.
Whether we like it or not, our freedom is all played out here: not in choosing "what" to live, but in deciding "how" to go through what life has meant for us.

We have the privilege to graduate from one of the best universities not only at the national level but also at the international one. I speak of "privilege" because I truly believe that it is and here starts my second story, the last one. On a rainy day, in Rome, I was walking to the internship, when I saw a plastic plate on the ground with some cents in it. I turned around and I saw a young black man collecting the garbage. He was an irregular migrant, doing it for free while trying to find a way to survive. Exactly at that moment, I realized how incredibly fortunate I am. I have the opportunity to graduate from a master which has given me the chance to enter into contact with an international context, which has incredibly broaden my mind. I live in a country where human rights are safeguarded, where people are not forced to flee for war or persecution. You are wondering how the eggs and bananas stuff is related to the migrant experience. Instead of behaving like an egg, preferring to protect ourselves in a golden cage, choose to be a coffee bean with an exquisite and unique flavor. Let's put ourselves in others' shoes, and if we can let's do good (MIR Master has provided us with the tools to do good). The world needs people like us, young adults with bright eyes full of hope and dreams, always aiming at the moon and trying to find a way to reach it.
Let me conclude with the words of one of my favorite leaders, Pope Francis:
"Dreams are important. They keep our eyes open, they help us to embrace the horizon, to cultivate hope in every daily action. And the dreams of the youth are the most important ones. A young man who does not know how to dream is a young man who has been anaesthetised; he will not be able to understand life, the strength of life. Dreams wake you up, they take you beyond, they are the brightest stars, those that indicate a different path for humanity."

Today I simply wish us to be coffee beans! Thank you and congratulations. We have made it!
Chiara Colotti, MIR former student (a.a. 2018/19)