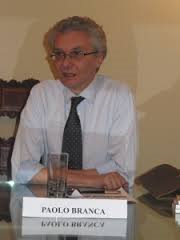 Paolo Branca is full professor (level 2) in Arabic and Islamic studies at Università Cattolica del Sacro Cuore, Milan. He also taught at University of Turin and University of Pavia.
He graduated with honors (1982) in Oriental Languages at the University of Venice Ca' Foscari, with a dissertation on thought of the Egyptian writer Khalid Muhammad Khalid. He attended different workshops and conferences as speaker and gave lectures in several institutions, such as Pontificia Universitas Urbaniana, Institut du Monde Arabe - Paris, Université de Lausanne, University of Florence, University of'Ain Shams - Cairo (Egypt), State University of Milan, Université Saint Joseph (Beirut).
Contacts
personal page: http://docenti.unicatt.it/ita/paolo_luigi_branca/
---
Course
Islamic political thought, institutions and society "From the Nahda to Nowhere"?
The cycle of Arab nationalism and its immediate post-colonial and 'revolutionary' multiplications effectively created a significant time span between these two dates and the events connected to them, in both cases negative and linked to its 'rhetorical' nature. The 'betrayal' of the expectations of the Arab allies by Britain and France was made possible by a situation in the field which was very distant from the still immature 'national' claims of the areas concerned whilst the defeat against Israel went hand in hand with the hypertrophy of a bombastic discourse but one with shallow roots in the socio-institutional reality.