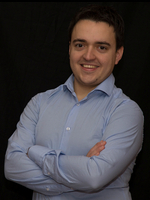 Bachelor Degree in Political Science and International Relations and LM in International Relations and European Integration at Università Cattolica del Sacro Cuore (Awarded the Agostino Gemelli Prize "Laureate of the Year 2008").
He has got an Master of Science in Political Science and Political Economy at the London School of Economics in London and a Ph.D. in Institutions and Politics (Economics field) at Università Cattolica del Sacro Cuore, carrying out an empirical research on the indirect effect of democracy on long-run economic growth by the channel of institutions.
He is currently Post-Doctoral Research Scholar at the International Economics, Institutions and Development Department at Università Cattolica del Sacro Cuore. He also collaborated with public (Eupolis, IReR) and private (Ventura) research institutes.
Contacts
e-mail: domenico.rossignoli@unicatt.it
personal page: http://docenti.unicatt.it/ita/domenico_rossignoli/
---
Course
Institutions, Democracy and Development. Facts, Theories, and Measures
The course provides:
a) an overview of the relevant economic literature on institutions, with a particular attention on the New Institutional Economics perspectives, its strengths and limits;
b) an analysis of the relationship between democracy and growth, focusing on long-term patterns, illustrating relevant empirical facts and their critical assessment based on the theoretical tools provided during the course;
c) tools to empower the capability of understanding and producing country-reports adopting a wide set of quantitative and qualitative measures of institutions.