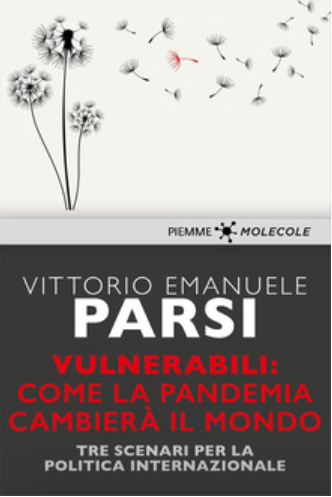 The new e-book the ASERI and MEPIN director, prof. Vittorio Emanuele Parsi: "Vulnerabili: come la pandemia cambierà il mondo: tre scenari per la politica internazionale", edited by Piemme Molecole (in italian only).
"Con il Covid-19 l'umanità si è riscoperta vulnerabile. L'interdipendenza globale ci ha presentato il conto, ci ha mostrato il suo lato oscuro, davanti al quale ci siamo sentiti persi e impotenti. Il futuro però ci mette di fronte alla possibilità di lavorare affinché la consapevolezza della nostra vulnerabilità sia l'elemento intorno a cui ripensare e ricostruire una nuova interdipendenza, così da non farci cogliere impreparati non solo dalla prossima pandemia, ma anche da qualunque altro futuro shock esterno, evitando un ennesimo massacro di popolazioni, benessere economico, coesione sociale e diritti individuali.
Occorre cominciare a concepirci come l'equipaggio di un solo e insostituibile vascello, che all'infinito naviga in uno sterminato oceano. La nave è vulnerabile, e la sua componente più vulnerabile è costituita dall'equipaggio, la cui sicurezza non può venir messa in secondo piano: perché la solidità e la resilienza di un sistema sono dettate da quelle dell'elemento più fragile".